My chosen media is predominantly  textile: the potential of fabric to fold and conceal, as well as cover and protect is one that everyone knows and understands, and in my work I hope it provides a base that holds my ideas, capturing them in the fibres, and revelling in  colour and texture.   Most of my work is based on observation reconsidered through the processes of drawing and photography.  The calm and spirit of a place – whether it is on land or on the edge of the sea has impacted on my ideas; many of which are clearly filtered by my experiences and the context of art practices which I am continually researching and exploring.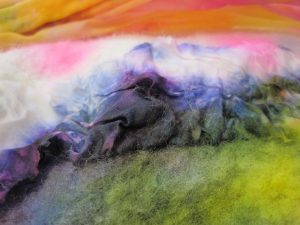 Exhibitions:
Lancashire Open 2018, Chapel Gallery, Ormskirk
Sefton Open, 2018, The Atkinson, Southport, Merseyside
Sefton Open, 2016, The Atkinson, Southport, Merseyside

'…in Motion', Filz  touring exhibition  commencing Feb 2013 in Göttingen, Germany;
May 2013 in Mouzon, France; Sept 2013 in Forchheim, Germany;
Spring 2014 in Yväskylä, Craft Museum of Finland, 2015 Heidelberg, Germany
Interwoven, Chapel Gallery, Ormskirk, Lancs, 2011
Crafted, Knowsley Arts, Sept – February 2011
Considering Terrain, Edge Hill University, April 2010
Objects of Desire, Chapel Gallery Ormskirk, Nov 2008
Healing Exhibition, International textiles artists at Norton Priory, April 2008
Seven -MA Fine Art 2006, Chester University, Sept 2006
On the Map – IFA touring exhibition UK and Europe, Terressa, Barcelona March/April 2006
Wild Women Felters, Atkinson Art Gallery, Southport March/April 2006
On the Map – IFA touring exhibition UK and Europe, Botanic Gardens, Edinburgh Dec 2005 +
Sefton Open, (selected) September 2005
West Lancs Open, (selected) August 2005
Silver Strands, Atkinson Art Gallery Southport, December 2004
Contemporary Felt wall hangings & Art Objects, National Gallery, Budapest, August '04
On Noah's Ark (work with children) exhibition : Kecskemet, Hungary, 2004
On the Map – IFA touring exhibition UK and Europe, starts May 2004 in Devon, and through 2005; 2006 in Barcelona
Contemporary art, design and craft , Chapel Gallery, Ormskirk, 2003
Art- Felt (solo)Bell corridor, Howarth Art Gallery, Accrington, Lancs Aug – Sept 2003
West Lancs Open, Chapel Gallery, Ormskirk, 2002 – 5
Over the Hills, Chapel Gallery, Ormskirk 2003
Textile Biennalle, Stroud 2003
High Places, Stockport Art Gallery 2003
Howarth Open, Accrington, Lancs, 2002
Red,Red, Red, Maidstone Art Gallery, 2002
On the Line, Morley Gallery, London July 2002
Felt impressed, touring IFA exhibition 2002 – 2003
Contemporary Craft & Design, Knowsley Art Gallery, Dec 2001- Jan 2002
Sefton Open, Merseyside Sept – Nov 2001
Felt, Fibre and Fabric, Frodsham, Cheshire, 2001
Solo exhibition, Domino Gallery , Liverpool, 2001
Solo exhibition, Philharmonic Hall, Liverpool, 2001
Affordable Art Fair, Battersea, London, 2000
Indian Summer, Bluecoat D. Centre, Liverpool, 2000
"Felt Directions" touring, 2000- 2001
"Continuum" , Touring Exhibition of Guild of S, W & D
Stockport Open, 2000
On your head be it, Stockport Hatting Museum, 2000
We have felt…. Brewery Arts Centre, Kendal, 2000
Drumcroon Open , Wigan 1997 – 2000
Grosvenor Open , Chester 1999
Four textile artists: "Fibre & Form", Bankfield Museum, Halifax, 1998Felt Directions, Collins Gallery, Glasgow and touring including Mouzon 1994-95
Work in Private Collections & in the New Women's Hospital, Liverpool.
Achievements:
Masters degree in fine Art, Liverpool / Chester 2006
Masters degree in Arts in Education, Liverpool 1996
Professional Development Award
from North West Arts Board, July 2000
Drumcroon Open Exhibition, 1998
Textile Prize winner
Works to commission for public art projects
& private collections.

Member Of Merseyside Guild of Weavers (past chairperson, currently secretary)
Chairperson of the International Feltmakers Association 01- 04